Master Class
MASTER'S CLASSES, WORKSHOPS, LECTURES, INDIVIDUAL LESSONS, OPERAS & CONCERTS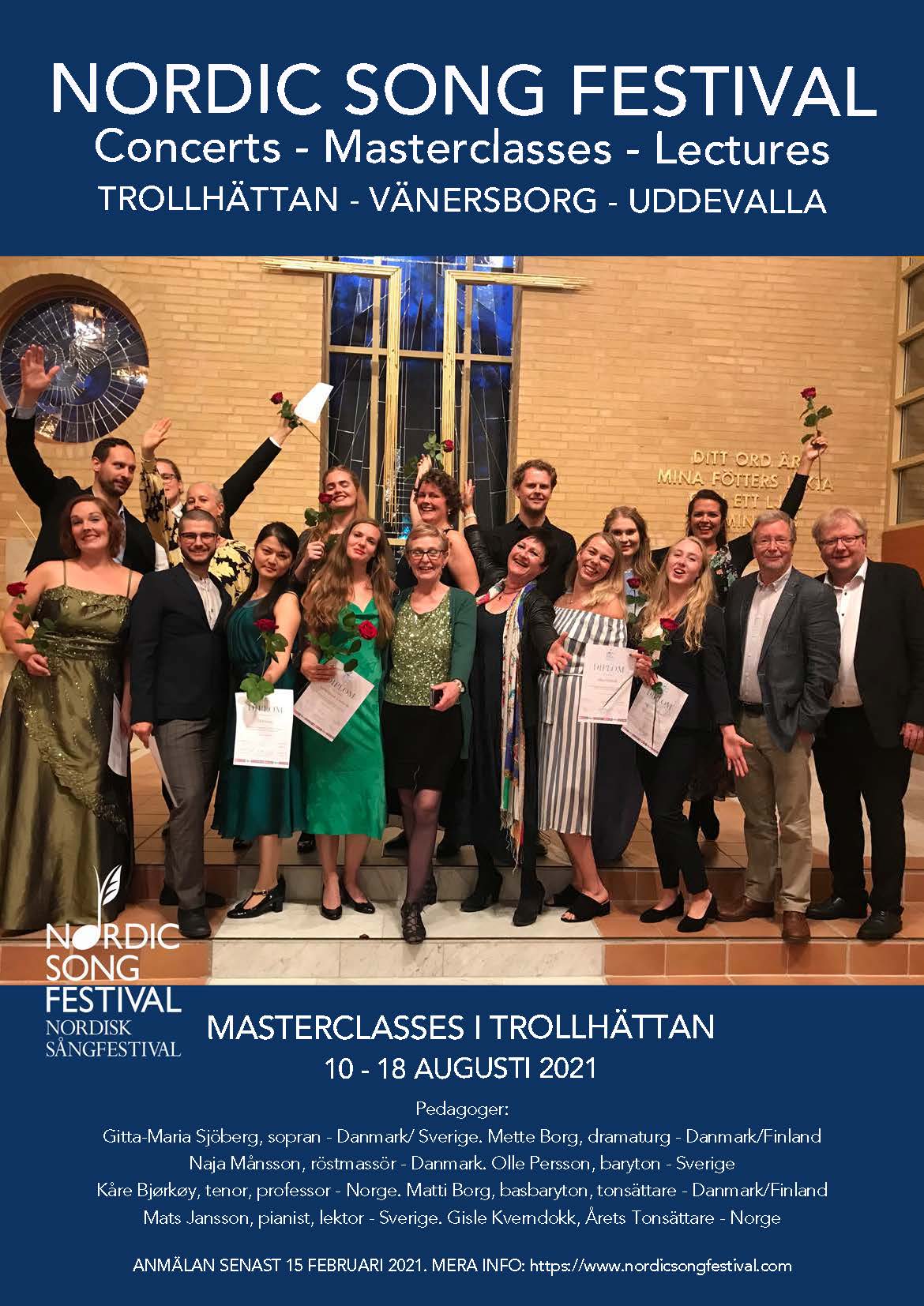 Singing and piano students, singing and piano educators, professional artists and interested parties are invited to the Nordic Song Festival: Kulturskolan N3, Trollhättan, August, 9 (for active participants) 10 – 18 August 2021. Initiator and artistic director: Gitta-Maria Sjöberg, Malmö DK / SE, internationally recognized Swedish soprano and singing teacher. Other teachers: Olle Persson, Stockholm / Örebro SE, Kåre Bjørkøy, Tenor and Professor, Trondheim NO, Matti Borg Vocal Coach and Composer, Helsingør DK, Mats Jansson Pianist, Örebro SE, Mette Borg Director and Dramaturg, Copenhagen DK. Lectures with i.a. Are Brean, Editor and brain researcher, Oslo NO, Mette Borg director DK, Gunilla Flinck, Pianist and Music Radio journalist SE, Composer of the Year Gisle Kverndokk, Oslo NO Nordic Song Festival focuses on the Nordic song treasure with songs and romances in the Nordic languages. There will be opportunity's for in-depth study of musical / stage expressions as well as communication of the repertoire. Both classical and newly composed music are on the repertoire. Composers Gisle Kverndokk and Matti Borg will teach and present their own music during the festival. Concerts and operas performances are arranged in concert halls in Trollhättan, Vänersborg and Uddevalla.
NOTE!
The application must be received by us latest February, 15 2021
BUILD YOUR
MUSICAL NETWORK
AND GET FRIENDS
FOR LIFE.
The Nordic Song Festival is open to students from all over the world. There will be many opportunities to create valuable networks across national and cultural borders.
PRICE 10,000 SEK.
This includes: All meals, stay in shared hotel rooms. In case of requests for single rooms, extra cost will be added. * 7 days of individual singing and piano lessons and lessons in text analysis min. 1 – 2 hours / day. * Workshop in stage design, text analysis, pronunciation, physio-drama and contemporary music * At least 5 lessons on master course with audience * Tickets to all the festival's concerts and operas * Participation in 2 concerts + 2 genre reps with Mette Borg as director – pianists also have the opportunity to participate as solists at one of the concerts.
SUPPORT FROM ORGANIZER
The teachers are happy to give advice and suggestions for repertoires! We can also help finding notes. To participate in the master courses, each active participant must study at least 6 Nordic songs / romances. The Nordic countries Sweden, Finland, Denmark and Norway must be represented and at least one piece must be composed by a living composer. The pianists work with two singers each. The singers should know their repertoire by heart at the start.