Friends of Nordic Song Festival
The Nordic vocal music has many friends. Therefore, we are starting Nordic Song Festivals Friends, a non-profit association which you who want to support the Nordic vocal music can enjoy exclusive benefits, specially designed for NSF Friends.

As a member of the Nordic Song Festivals friendship you support operations and become an ambassador of a cultural heritage of the Nordic composers and performers.

Nordic Song Festival Friends main mission is to spread knowledge about the exciting artistic training activities conducted in the festival spirit.

We hope you will become one of our friends!

BOARD OF NORDIC SONG FESTIVAL 2016-2017
Gitta-Maria Sjöberg, Kjeld Boye-Møller, Fredrik de Jounge, Björn Dahlberg, Fredrik Glans,
Mette Borg, Mogens Steinrud & Inger Allan
Sign up by using the button to the right (you will come to our site "Membership").
Pay your membership to bank transfer 409-2591 (enter name and phone when payment) or transfer your payment by Swish to NSF Swish account 123 552 68 68 .

PLEASE NOTE - For payment from countries outside Sweden:
IBAN SE35 8000 0812 9904 3747 0016 SWIFT/BIC SWEDSESS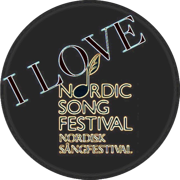 Join the Nordic Song Festival Friends!
Private member 250 SEK
Family/couple 400 SEK
VIP member 950 SEK
Company 1 200 SEK

Bank transfer 407-2591
NSF Swish account 123 552 68 68

For payment from countries outside Sweden:
IBAN SE35 8000 0812 9904 3747 0016 SWIFT/BIC SWEDSESS
You who have the ability and desire may as a member join us as a volunteer during the festival.
We need help with ticketing, program distribution and other practical duties where you as a volunteer can make a great contribution to the festival
As a VIP member, you get free admission to all concerts, lectures, master classes and mingle with artists for summer concerts. You also support NSF's business and become a VIP Ambassador for Nordic Vocal Arts.
25% discount on concert tickets
Reserved seats (if desired) at some of the summer concerts.
VIP mingle with artists and students at Master Classes.
Free admission at student concerts.
Attend free lectures and Master Classes.
Companies wishing to help support Nordic Song Festival will among other things recieve two free tickets to any two concerts, as well as discounted tickets for ev. additional staff.

Corporate members and donors can be seen (by appointment) also on the website and in the program leaflet

For more information on corporate membership or sponsorship, please contact Kjeld Boye-Moller